Is Strategy important in our philanthropy from a God-centered perspective?
11.14.2019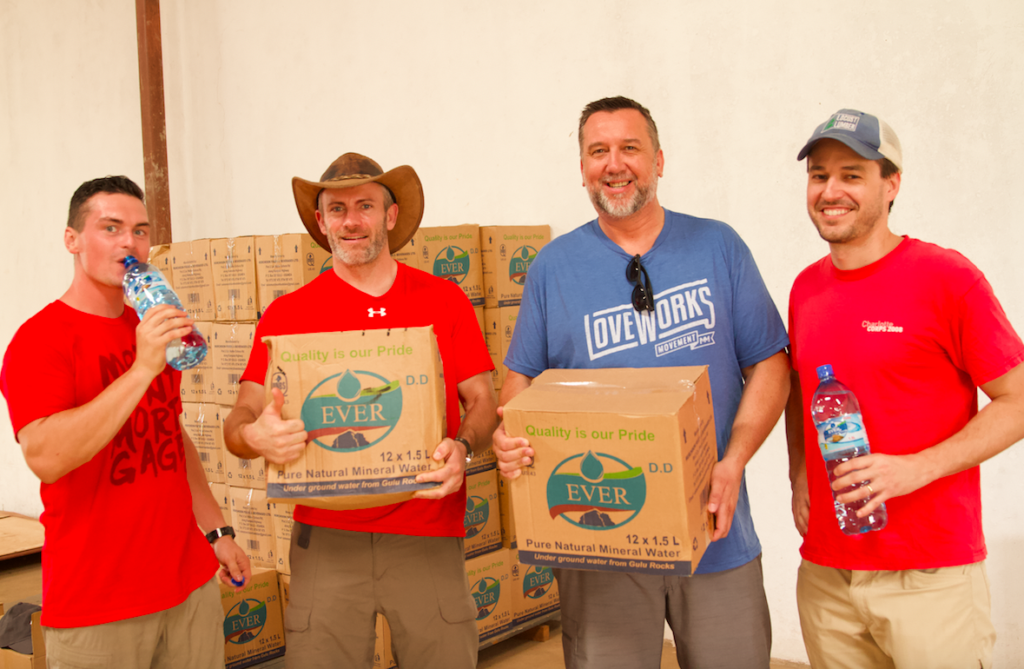 By Brett McDonough, Chairman – Hiinga.
James 1:27 (NIV) states: "Religion that God our Father accepts as pure and faultless is this; to look after orphans and widows in their distress and to keep oneself from being polluted by the world". In Jesus's ministry, he is often focused on vulnerable women and loved children (Mark 10:13-16, Matthew 9:22-26, Matthew 5:30, Matthew 18:1-5). This can also be seen in modern history with Nobel Peace Prize Laurette Mother Teresa who epitomizes this exhortation from St. James. Such is the call to us, as believers, that we are to apply ourselves to serve those that are least in the kingdom. But while this is true, I often wonder if we should question the methods of achieving the objective.
I first traveled to Uganda about 10 years ago. I was not yet a believer, but I was invited to go on a mission trip to the north region of the country by a couple of friends. I decided to go because I wanted to see a new part of the world and traveling was a passion of mine. I was excited to go to a new place and experience new things, but my time there was bittersweet. Here was this beautiful country full of culture and things I had never seen, but even for an unbeliever like me, it was impossible not to feel the dark cloud that hung over the north region. A murderous warlord and his group of thousands of abducted child soldiers had done unspeakable acts of violence. The war had ended a couple of years earlier, yet thousands of people still lived in cramped in IDP (Internally Displaced Peoples) camps wrought with disease, malnourishment, and seemingly hopelessness. But yet even among these deplorable conditions, I could sense hope, love, and joy in the people I encountered and it was luring me to respond. And now as a believer, I think this a similar way Jesus looks upon us. As I look back, I realize that He was using this experience to activate a deep connection between me and Uganda.
James 1:27 clearly tells us WHO to help but it does not tell us HOW to help them. So, then what is the best way to respond? Build another orphanage? Send a couple of children to school? Buy meals for a widow? For anyone that has travelled to developing countries or even other needy areas in our own back yards, we've all wrestled with these questions. Some days it is clearer to me than others. But what I do know is that God sees every genuine response and joyful heart as a "beautiful alabaster jar of expensive perfume" (Matt 26:7). In this scripture, the disciples are indignant that the woman poured her jar of expensive perfume over Jesus's head instead of selling it at a high price and giving the money to the poor. What is conflicting for me is Jesus's reaction: "The poor you will always have with you, but you will not always have me." Is Jesus saying why bother developing a strategic plan for a problem that will never be solved? No, I believe what Jesus is saying is that motive matters in everything we do.
In Uganda, and later, Rwanda, I have learned that advancing the kingdom by loving on orphans and widows is most effectively accomplished by using my limited resources (time, talent, and money) to create employment. To invest in the entrepreneurs on the front line who are multiplying their talents to provide jobs that will last. Of course, I still support many ministries that are solely dependent on benevolent capital, like my friends Ken and Cathy who run a special needs orphan care home. However, when it comes to maximizing and multiplying talents, I believe that God is calling those of us in the marketplace to another level of strategic and tactical stewardship. Jesus wants us to utilize the full breadth of our platforms, including our culture, our brands, employees, customers, and profits to expand his Kingdom here on earth.
An often-quoted parable applicable to this subject, is that of the talents in Matthew 25: 14-30. In this parable the master departs for a trip and entrusts his 3 servants with his wealth. Two take the wealth and multiple it, whereas one is called unfaithful and lazy for fearfully hiding it in the ground. This parable should serve as a guide to all of us who believe we have been entrusted by God, our master, to steward His assets. Just as the servants were judged for their faithfulness, so will we be. It is reasonable to assume that if God did not care about strategy this parable would have never made written word because the first two servants were not only faithful, they also were clearly strategic. It is not apparent from the text exactly how they were able to multiply their talents, but it is safe to assume they did not buy lottery tickets and hope for the best. They knew their master had entrusted them with much and therefore were compelled to honor those gifts by multiplying it further for him. It is my opinion we must strategically and faithful seek multiplication of our talents – for His glory.
The western world has prospered greatly because of capital and economic structures that support entrepreneurship. Developing countries, like Uganda, need business builders and entrepreneurs, not just sponsors. They need their own John D. Rockefellers and Carnegie Mellons. They need their own Warren Buffetts and Bill Gates. They need their own version of Small Businesses, much like the bedrock of our American Economy, which provides over 90% of our employment. And in my opinion, these business leaders are only going to succeed and thrive if they can access affordable and transparent capital to foster their strategic initiatives.
According to the Financial Times, 84% of small and medium enterprises (SMEs) in Africa are either unserved or underserved in terms of access to capital. Solutions towards remedying this issue have the potential to pay massive social dividends; however, if we don't effectively harness this human capital it will be one of the greatest deficits of our time. The median age in Uganda is 15.8 years and just 19.1 years continent wide, and more than half of the global population growth between now and 2050 is expected to occur in Africa. God's Kingdom needs to be glorified through this population – and I believe the marketplace is the most fertile ground to accomplish this. I know many reading this share the same opinion. As Lausanne founder Billy Graham said, "I believe that one of the next great moves of God will be in the marketplace".
When I met Ugandan native Andy Agaba in 2014, we found an immediate kinship, and God has used this relationship over the years to help us to respond strategically to the needs in East Africa. Through Hiinga, we have currently invested in over 100 small and medium businesses across the country, by providing debt, equity, strategic advice, and spiritual development to next generation leaders. Our investments are across the agribusiness, education, healthcare, and manufacturing sectors which are foundational for massive impact and economic growth.
Over 50% of our portfolio is woman-led businesses and nearly 50% is funding education infrastructure to meet the demographic need. It is through the support of these entrepreneurs that we believe we can transform communities, countries, and culture. With 2% default rates, collateralized loans, and a portfolio yield of ~15%, we are building a sustainable non-profit enterprise. In fact, 2018 marked a pivotal year where the interest income generated on the portfolio covered all of our in-country administrative costs. What is also exciting is our ability to provide liquidity at a rate that's 2/3 the cost of commercial banks and other NGO's, flexible underwiriting and terms. We also come along side entrepreneurs with spiritual and leadership development training to help them harness their companies for His glory. Strategically speaking, from a marketplace perspective, I feel we are at a confluence of where common-sense business and biblical stewardship join and, God willing, it is a strategy we want to continue to scale.
My work with Hiinga has correlated with my own personal transformation story. I have gone from a place where my personal and business life was solely focused on ME and a lifestyle wrapped in self-righteousness, materialism and earthly "success". I was, in a sense, like the third servant burying the money, not thinking about how to use it to better anyone other than myself. But now I call God my master and try to orient daily to ME becoming LESS so that I can bask in the peace that comes with surrendering my assets, gifts, and abilities to God.
By serving and empowering others, seeking strategic stewardship, and remaining obedient, I have found that the stress and purposeless-void that I used to try to fill with things of this world, has been replaced with the shalom and grace of remaining in His Will. Paul summarizes this well in 2 Timothy 1:8-9: "Therefore do not be ashamed of the testimony of our Lord, nor of me His prisoner, but share with me in the sufferings of the gospel according to the power of God; Who has saved us, and called us with a holy calling, not according to our works, but according to his purpose and grace, which was given to us in Christ Jesus before time began".
So, do you think God cares about strategy in your philanthropy?